Lawn mowing and yard maintenance services for residences and businesses in Ada, MI and surrounding towns.
Keeping your grass mowed to the ideal height and clearing leaves from your lawn gives your grass the best chance to absorb nutrients.
---
During the growing season, it's important to keep your grass mowed to the ideal height so that it can stay healthy and absorb nutrients. It's also vital during the fall to remove leaves in a timely manner so they don't create a thick carpet that blocks light and air from reaching your grass. More importantly, all of these maintenance tasks take up a lot of your spare time, and that takes you away from the things that matter most, whether it's your family or your day-to-day business operations.
Our lawn mowing company provides weekly mowing during the growing season and leaf cleanups in the fall for residences and businesses on our maintenance contracts in Ada, Cascade, Grand Rapids Township, and other surrounding Michigan cities such as East Grand Rapids and Lowell.
---
Weekly Lawn Mowing During the Growing Season Keeps Your Lawn at the Proper Height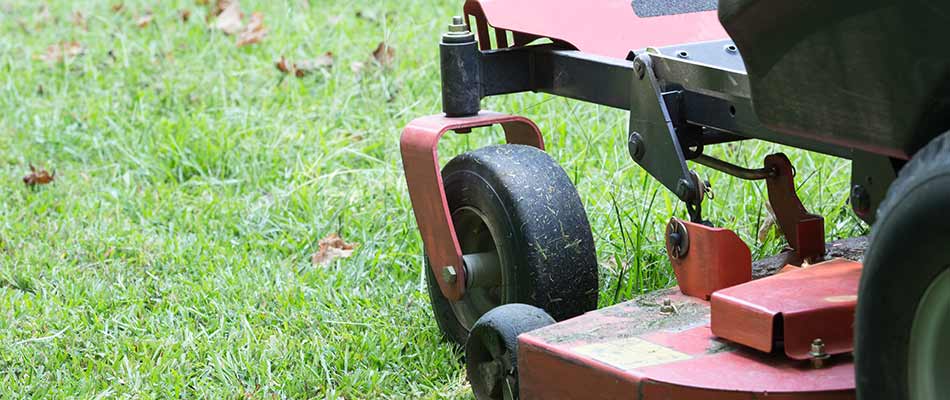 Included in our maintenance package, weekly lawn mows during the growing season, which typically is from April to early October depending on weather, keep your lawn at the proper height. Cutting grass blades by more than one-third of their height can severely hurt your lawn's chances of reaching top condition.
Our crew will visit your property 27-30 times a season, subject to weather and watering, to mow your grass. Included in each mow is string-trimming and blowing the grass clippings off of your driveways and sidewalks. Every other week, we will perform concrete edging to give the lawn a polished look.
We schedule weekly mows to keep your grass at the proper height, but it also helps to clear out any insects that may have entered your lawn. Routine mowing services also reduce debris that may accumulate in a lawn and helps to maintain your overall curb appeal.
---
Fall Leaf Services & Yard Cleanups for Seasonal Maintenance Customers
When the leaves begin to fall, it may look pretty, but leaving them on your grass for too long can have a detrimental effect. If leaves are left on your grass, they can end up blocking your lawn's access to absorb light, air, and water—all needed to complete the vital process of photosynthesis. If leaves are left long enough, snow mold can begin to grow, which can kill your lawn.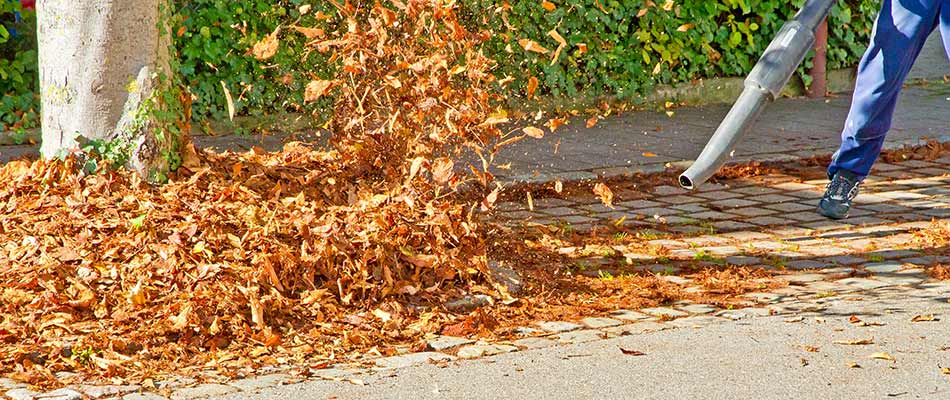 For those enrolled in our package, we provide leaf cleanups in the fall, which ensures we remove as many leaves as possible before winter weather hits. We can blow leaves to the curb and vacuum them up, or we can mulch them and leave them behind. We also blow all leaves out of flower beds.
Spring cleanups and fall cleanups are a part of our maintenance package so that we can ensure any yard debris is removed.
---
Call now to schedule your weekly lawn maintenance services and fall leaf cleanup!
Our lawn maintenance crew and leaf cleanup teams will apply their years of experience to your yard and use best practices for your type of grass. At Woods Landscape Maintenance, we've worked with properties in the Grand Rapids area for 40 years, including cities such as Ada, Cascade, Grand Rapids Township, and many more like East Grand Rapids and Lowell. Contact us today at (616) 868-6749 or fill out our online form to get on our lawn mowing and leaf removal schedule!