40+ years providing lawn care services in Ada, Cascade, and other surrounding Michigan areas.
We ensure your grass and soil get the exact treatments needed to foster healthy grass growth.
---
At Woods Landscape Maintenance, we've been in business for 40 years providing lawn care treatments to the entire Grand Rapids, MI area, including Ada, Cascade, Grand Rapids Township, and other cities within Kent County such as East Grand Rapids and Grand Rapids.
Our extensive lawn care program ensures your soil and grass get the exact nutrients needed for fostering the growth of healthy, happy grass. Services included in our lawn care program are:
Fertilization
Weed control
Lawn disease treatment
Grub control
Aeration
And more!
---
Our Six-Step Lawn Care Program Is Tailored for Grand Rapids Lawns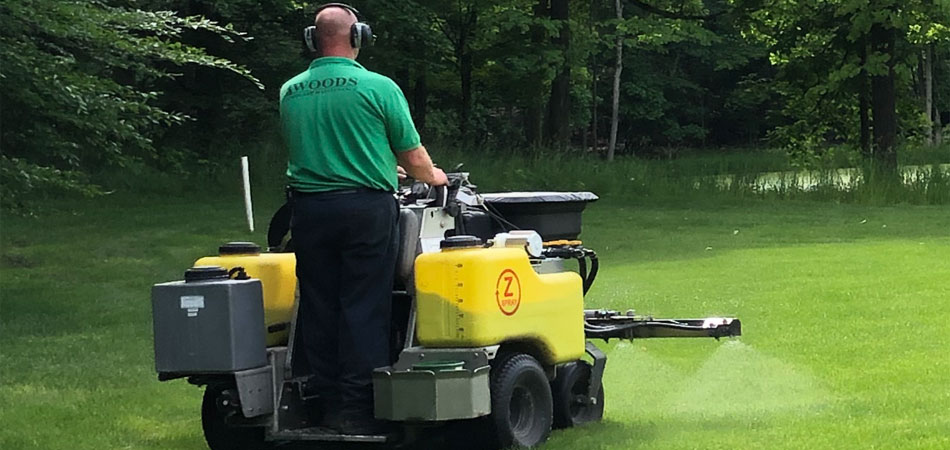 With our vast experience, we know the precise treatments needed for lawns in the Grand Rapids area. Our outstanding lawn care program is tailored to keep your lawn looking green and healthy throughout the growing season. Our promise is that we will ensure your lawn stays green and weed-free. In fact, we're so confident in that promise that we provide a Happiness Guarantee. That guarantee gives you peace of mind. If you see weeds growing up to three weeks after one of our treatments, we will come back out and treat those weeds for free. Additionally, we will also come back out to check your grass and soil for free if your lawn does not green up after a fertilizer application.
Our six-step program includes fertilization and weed control treatments. Included in those steps are:
Step 1: Early spring, we apply a slow-release fertilizer w/ a pre-emergent application to prevent Crabgrass.
Step 2: In late spring, slow-release fertilizer and weed control treatments are applied.
Step 3: The early summer treatment is another slow-release fertilizer and weed control.
Step 4: Late summer treatments include slow-release fertilizer and weed control.
Step 5: Our early fall application is a slow-release fertilizer along with weed control.
Step 6: In late fall, we put down a winterizer treatment so your grass can absorb the nutrients it needs to make it through the winter dormant period.
Here at Woods Landscape Maintenance, we're experts when it comes to Michigan's laws regarding phosphorus in fertilizers. When too much phosphorus gets into the groundwater, it will work its way into the local lakes, rivers, and streams, creating unwanted algae blooms. To reduce this occurrence, Michigan standards for phosphorus fertilizer are regulated.
Hopefully, you won't, but if you see signs of lawn disease, we can help correct it by changing the lawn's environment. Often, lawn diseases like brown patch are triggered by being underfed and overwatered. Backing up off of the sprinklers can correct these issues. We fix the most common diseases such as dollar spot, red thread, snow mold, and necrotic ring spot.
---
Our Treatments Are Designed to Target Common Weeds Such as Dandelions, Clover, & More
In our area of Michigan, we have several common weeds that are known to pop up in lawns. When we see them, we work to treat them so they don't take over your grass. We will also provide monthly or bi-weekly landscape bed weed control. Other common weeds in our area include:
Crabgrass
Dandelions
Clovers
Wild violet
Nutsedge
Thistle
Corn speedwell
Other broadleaf weeds
By applying pre-emergent and post-emergent weed control treatments, we can control the appearance of these weeds in your lawn.
---
Spring & Fall Aeration Allows Nutrients to Pass Through the Soil to the Grass Roots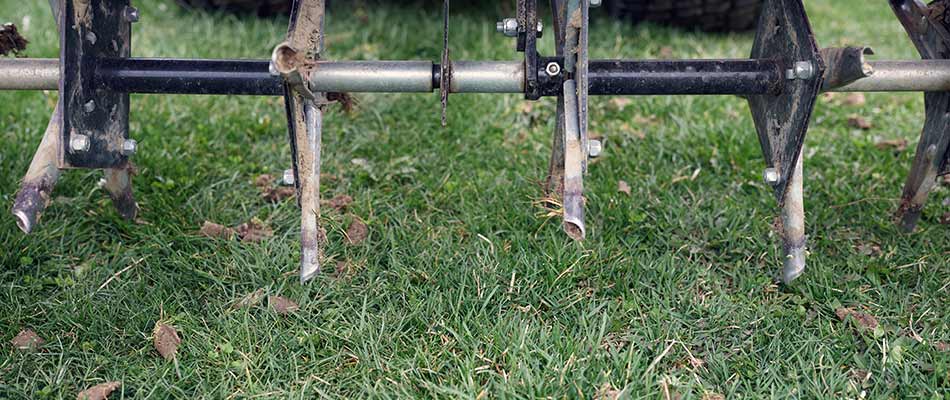 At Woods Landscape Maintenance, we provide spring and fall core aeration services. Core aeration removes cores of soil in your lawn, which helps to loosen any compacted soil and give the lawn a chance to breathe. This allows nutrients from fertilizer, as well as light, water, and air to pass through into the grass roots. Aerating in the spring and fall allows our team to prepare your lawn for the upcoming seasons so it can absorb the maximum amount of nutrients. The stronger your lawn is, the easier it will be to fight off any threats to its overall health.
All properties benefit from routine aeration treatments, but it's especially beneficial for those that receive heavy foot traffic, such as large commercial properties, athletic fields, HOA parks, and more.
---
Grub Control Treatment Keeps Lawn Insects from Destroying Your Grass
Grubs are the larvae of insects such as beetles and they feed on your grass, destroying it from the root up. Our grub control treatment, applied in early summer, helps to treat these insects so they don't kill your lawn. If left unchecked, grubs can overtake an entire lawn. Signs of a grub invasion include spongy grass and brown patches throughout the lawn.
---
If you need lawn care services in the Grand Rapids, MI area, contact us today!
Our lawn care company provides services to areas throughout Grand Rapids and Kent County, including Ada, Cascade, Grand Rapids Township, East Grand Rapids, Grand Rapids, Plainfield Township, Rockford, Kentwood, Caledonia, Lowell, and Belding. If you're in need of lawn care services, contact us today by calling (616) 868-6749 or filling out our online form!